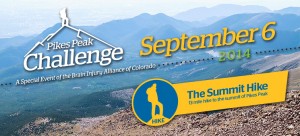 Dear friends,
I am again (second time) participating in the Pikes Peak Challenge Summit Hike to support the Brain Injury Alliance of Colorado (BIAC). When I finish, I will have hiked 13 miles and 7,400 vertical feet to the 14,110 foot summit of Pikes Peak to join other hikers and supporters in celebration of brain injury awareness.
Although this is quite an undertaking considering the altitude, possible weather conditions, and other athletic requirements I might encounter, it pales in comparison to what survivors of a Brain Injury face every day. Did you know that there are over 200,000 individuals living with the effects of a brain injury in Colorado and that 5,000 new cases are reported every year? The Brain Injury Alliance of Colorado is dedicated to serving individuals affected by all forms of injuries to the brain such as stroke, TBI, tumor, anoxia, and infection.
I'm very exciting to be doing this incredible hike again this year, although many will question my sanity. It's an amazing accomplishment and for a great cause. The most meaningful part of last year's hike was the several persons who stopped me on the last mile of the trail, survivors of brain injury, and thanked me for hiking for them.
As part of the experience I must raise money for BIAC. A good friend in my church and her family have been helped by this great organization and have raved about all that BIAC has done fore them. So I have a personal connection to this event as well.
I hope you'll support me through your prayers, thoughts and, if you're able, a donation to this wonderful organization who help so many. Thank you so much for your support!
Bill Gnegy

$25.00


$30.00


$100.00


$50.00


$25.00


$50.00


$50.00


$50.00