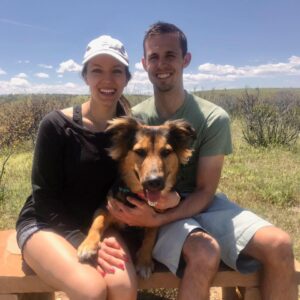 Dear Family and Friends,
For those that may or may not know, I'm married to one of the most resilient human beings on this planet. Jenn has suffered multiple traumatic brain injuries (TBI) in her life, and is now changing the world in her career.
Though I see the measures she takes to accomplish tasks in her life, unfortunately most others do not have the opportunity. Judgment can naturally come from those who are not aware of an invisible disability such as TBI, and we are here to help bring that to life for not only Jenn, but for countless others who may be going through hardship due to a disability not immediately seen.
Survivors of a brain injury must fight through unimaginable mental and physical challenges. There isn't a cure for brain injuries; they don't grow back like hair or fade like scars. While no two brain injuries are the same, they do have a few things in common. They are always present and dealing with the effects is a lifelong, day-in-day-out process. They require brain injury survivors to navigate in a brand-new world as they fight to establish a new normal.
Jenn has since found the Brain Injury Alliance of Colorado, and has brought a similar community closer, to help tackle life's obstacles together.
Funding is critical for BIAC to continue supporting survivors in our state, which is why I am reaching out to family and friends to share my exciting commitment to participate in the 2022 Pikes Peak Challenge Summit Hike. The Pikes Peak Challenge will test my mental and physical boundaries as I raise money and awareness for those who have suffered an injury to the brain. When I finish, I will have hiked 13 miles and 7,400 vertical feet to the 14,115 ft Pikes Peak Summit.
To add, I will complete this hike with my golf bag and clubs to acknowledge and appreciate your donation toward a fantastic cause. For each donation, I will write 'Thank You (Name)' on a ball and hit it from the top!
I'm raising money on behalf of the the Brain Injury Alliance of Colorado's ongoing mission to improve the lives of those affected by an injury to the brain. For over 36 years, this organization has dedicated itself to the brain injury community and now I'm lending my support to their cause, and I hope you'll join me. The Brain Injury Alliance of Colorado (BIAC) is the go-to resource for help and services for survivors of an injury to the brain, their families, and providers.
To reach my goal, I need your help. Please consider donating to help me reach my fundraising goal of $200. (or more!) Check out my donation page to make a contribution or to learn more about BIAC.
Anonymous
$25.00

Tina Wink
$50.00