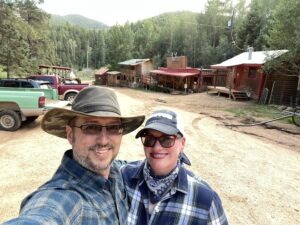 Dear Family and Friends,
Heather and I have an opportunity to continue our exploration of beautiful Colorado while raising funds for an amazing cause! Together with the support of the Brain Injury Alliance of Colorado, we are going to hike to the summit of Pikes Peak! We all know of someone or have been blessed to befriend someone who has had a brain injury. The medical needs and support that are needed to overcome such injuries are expensive!
Funding is critical for BIAC to continue supporting survivors in our state, which is why we are reaching out to family and friends to share our exciting commitment to participate in the 2022 Pikes Peak Challenge Summit Hike. The Pikes Peak Challenge will test our mental and physical boundaries as we raise money and awareness for those who have suffered an injury to the brain. When we finish, we will have hiked 13 miles and 7,400 vertical feet to the 14,115 ft Pikes Peak Summit.
For over 36 years, this organization has dedicated itself to the brain injury community and now we are lending our support to their cause, and I hope you'll join us.
To reach our goal, we need your help. Please consider donating to help us reach our fundraising goal of $400. (or more!) Check out our donation page to make a contribution or to learn more about BIAC.

Erin Duarte
$20.00

Yvette Acuff
$100.00

John Bailey
$100.00

Robert Bowes
$100.00

Angie Stevens
$10.00

Brandi Anuskiewicz
$20.00