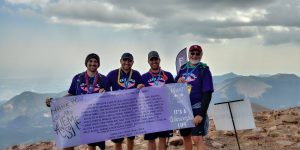 Hello Friends and family! Thank you for taking the time to visit my Pikes Peak Challenge fundraising page.
I will be climbing Pikes Peak on the morning of September 7th in support of the Brain Injury Alliance of Colorado (BIAC) and Traumatic Brain Injury (TBI) Survivors. TBI is the leading cause of death for people under 45 years old in the United States and is associated with disability, early-onset dementia, cognitive disorders, mental illness and epilepsy. The BIAC exists to improve the lives of individuals living with brain injuries and by supporting this event we help them focus on that noble task.
This will be my third year supporting this event as a member of Team Jesse. Team Jesse began with my dad, brothers, and me and has grown in size and reach each year as more family and friends continue to join our efforts. Jesse was my older brother whose death was deemed a suicide in 2009. I strongly believe that his decision and mental state were affected by several head injuries he sustained during his athletic career. Understanding, treatment, and awareness of head injuries is constantly evolving and I believe that had Jesse's injuries occurred today the treatment and outcome may have been much different. Every year Team Jesse comes together to do this hike in honor/memory of my brother and in support of the Brain Injury Alliance.
This hike is a yearly challenge for my family and me but it pales in comparison to the daily challenges some people with brain injuries face. Losing Jesse remains the most challenging event I've faced in my life, this event helps make something positive out of a challenging situation and supports a cause I truly believe in.
There are several ways to support this cause! You can spread awareness about the BIAC and all the great things that they do for survivors of brain injury. Sign up for team Jesse, raise money and hike with us. Send positive thoughts that all participants safely complete the hike on September 7, 2019. You can also provide financial support through the link on my page. All donations are tax deductible and by no means obligated. Thank you for taking the time to read my story your consideration is greatly appreciated.

$0.00


$0.00


$0.00


$0.00


$0.00


$0.00


$0.00


$0.00


$0.00


$0.00


$0.00


$0.00


$0.00


$0.00