I'm participating in the Pikes Peak Challenge Hike for Brain Injury Awareness.  I will hike 13 miles and 7,400 vertical feet to the summit of 14,110′ Pikes Peak.    This is an outdoor adventure that I really have a passion for, and at the same time I get to help a very deserving cause.  You've supported me in this or other adventures in life and I hope you can find a way to help again, but please do not feel any obligation.  Sending your best wishes towards Pikes Peak on Sept 8th, is also great support!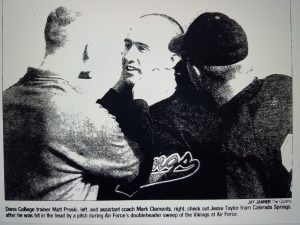 This year on the hike, I'll again be joined by my son's, Matt, Tim, Bob.  We will be climbing virtually with our son/brother Jesse, who was diagnosed as a suicide in 2009.  We honor the memory of Jess through "Team Jesse".   Although, we will never know what happened to Jesse, a loose correlation of baseball head injuries brings me some light to the understanding.  Helping the BIAC help TBI survivors, and that helps us.   We have a family friend, Karen Bishop, who graduated with our son Tim from the Physical Therapy program at Regis University, who is hiking with us.  if you are reading this, and are up for a beautiful hike, and raising some funds for a great cause, please let me know.  We will get you a t-shirt, headlamp, and away we will go on Sept 8th. 
This is my 11th year with the Pikes Peak Challenge.  Last year was my toughest Challenge as I was barely physically able to get to the top of Pikes Peak due to a hip injury, nearly missing the A-Frame cutoff time.  A visit with an orthopedist led to a diagnosis of osteoarthritis  and a prescription for a hip replacement.  Running would be out of my future.  The Pikes Peak Challenge…..well, unknown.   I looked for other options besides surgery, and found a doctor in Denver who specializes in 'regenerative medicine".  I underwent a procedure in the spring called Lipogems. 
https://www.ncbi.nlm.nih.gov/pmc/articles/PMC4972861/
 Like liposuction, fat in my 'love handles' was suctioned out, spun in a centrifuge, adipose tissue and mesenchymal stem cells separated out, and  re-injected into my injured hip.  Improvement in pain was almost immediate, and before long I was able to return to putting on shoes, walking steps, getting in and out of a car, and being able to sleep, all without pain.  I was able to return to some pretty important day to day life stuff that was getting very challenging.  Now, I'm very confident of being able to hike Pikes Peak, and really looking forward to climbing with Team Jesse in September.  Thank you new technology.
Lipogems is part of the emerging field and was awarded the best new technology in sports medicine for 2016.  This is cool stuff, but i'm a thankful guinea pig knowing court is still out on how long the positive effect will last.  But, if I can get favorable results for my hip, could stem cells also help the brain?  Maybe so.  The brain is not good at healing itself, but researchers have recently found that stem cells may be able to heal brain injury and slow or repair damage caused by disease.  
https://www.sciencealert.com/new-brain-stem-cell-could-fight-injury-or-disease
  Dare to dream that stem cells will soon help TBI surviviors the way Lipogems has helped by hip.  
TBI diagnosis, treatment and prevention continues to improve.  So much has been learned in recent years about CTE being caused by sports injuries.  New procedures and protocols for head injuries. Treatments and therapies are available that were not possible a short time ago.  Navigation of the resources available to a TBI survivor can be daunting.  That is where the Brain Injury Alliance comes in.  They help, connect the dots, get the survivors to help they didn't know existed.  They are wonderful!

$0.00


$0.00


$0.00


$0.00


$0.00


$0.00


$0.00


$0.00


$0.00


$0.00


$0.00