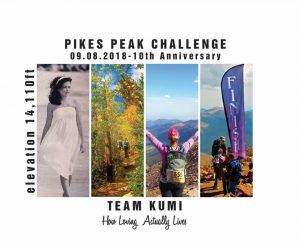 When Kumi was 18, she was hit by a drunk driver. Her life was changed in an instant. For the last 31 years, my friend Donna Coto has been a loyal and true friend to Kumi, visiting Kumi in her nursing home, and spending time with Kumi's family.  Beautiful Kumi is wearing a white dress in the photo above.
In Donna's words…   For those of you that don't know Kumi's story… she was hit by a drunk driver in 1987, she was 18 years old & my high school friend. She lives in a nursing home & requires round the clock care because of a traumatic brain injury (TBI) at the time of the accident. Kumi's birthday is on 9.8.18 – yes, the day of our hike. What a way to celebrate her! I will forever be grateful for her presence in my life – my biggest life teacher even though she hasn't spoken to me in 31 years. Hold on to those people who positively impact your life. Treasure them. Honor them. Love them. Talk about them. Forever. Surround yourself with caring people who listen as you keep their spirit alive. And listen to their story. There are so many out there that are deserving.
In addition, Donna has conquered the Pikes Peak Challenge nine previous times.  This is TEAM KUMI'S 10th anniversary of participating in the Pikes Peak Challenge.  I am proud to be a part of the group this year, willing to conquer a 14,000+ ft high mountain to help raise funds for brain injury survivors.
Every year, Team Kumi friends participate in the Pikes Peak Challenge to raise awareness for brain injury survivors like Kumi and to raise critical funding for the Brain Injury Alliance of Colorado (BIAC). BIAC is dedicated to serving individuals affected by all forms of injuries to the brain. BIAC's mission is to improve the quality of life for survivors by connecting them with resources to help navigate the path of rehabilitation. Brain injuries are so prevalent and so devastating to not only the individual who had the injury, but also their families.  
     
 I am reaching out to my family and friends to share my exciting commitment to participate in the 2018 Pikes Peak Challenge. This fun-filled and exciting event raises awareness for the brain injury community, while at the same time empowers both supporters and survivors as we hike, walk or roll side-by-side.
Last year $275,000 was raised to support the Brain Injury Alliance of Colorado! This year we hope to surpass that number and raise $300,000.  Team Kumi has already surpassed our team goal of $10,000, but wish to do everything we can to help support brain injury survivors.  Can you help us reach our goal?
I'm excited to share my commitment to participate in the 2018 Pikes Peak Challenge Summit Hike. When I finish, I will have hiked 13 miles and 7,400 vertical feet to the 14,110 foot summit of Pikes Peak.
Even more impressive than this challenge, is the courage and strength it takes for a survivor to overcome day to day struggles that come with a life of living with an injury to the brain.
Please donate now and together we can make a huge impact for brain injury survivors like Kumi and the entire brain injury community. 
Thank you!
Bruce Matta
$50.00

Lyle Danielson
$100.00

Scott Hagberg
$20.00

Melissa Mount
$50.00

Allison Schneider
$100.00

Erin Danielson
$50.00

Greg Sherwood
$50.00

Kim Enomoto
$50.00

Mary Sieker
$100.00