Thank you so much for visiting my Pikes Peak Challenge Fundraising Page! It is my second year participating in the Pikes Peak Challenge. Last year, I was overwhelmed by the support of my community as I ended up being a Top 50 fundraiser. I cannot thank you all enough for the time and consideration of supporting the Brain Injury Alliance of Colorado.
The Pikes Peak Marathon series has become a tradition in my family. Summiting Pikes Peak can be a challenging experience, but it is a challenge I have come to know and love. I have partaken in it many times now, each time pushing a little more, and fighting to be a little quicker. When my Dad first signed up to support the BIAC, it was just another reason to climb back up. Last year, I learned that the Pikes Peak Challenge is about so much more than the climb.
In many ways, I was stepping out of my comfort zone, and it was a gratifying experience. I was comfortable climbing a mountain so signing up was easy. Taking the time to reflect, write, and speak about my brother Jesse wasn't easy. Asking my friends, coworkers, and family for help still isn't easy. However, the overwhelming support, amazing people I met, the stories I heard, and the shared experience of accomplishing a goal was truly incredible.
For those that don't know, Jesse was my oldest brother and one of my most significant role models growing up. He had several well-documented head injuries in sports, but he never left a game because of one. Even though he was 'tough' that was no excuse; these days even if you feel you can 'tough it out,' all head injuries should be taken seriously and properly assessed promptly. My brother Jesse passed away November 7th, 2009, and his death was ruled a suicide. I don't know if it was the history of multiple head injuries that led to this event, but I'm confident that the head injuries did not help.
Like my brother, I can think of several times in my athletic career where I was knocked unconscious and continued to participate in a competition. Later in life, I also made a big mistake outside of sports where an altercation left me unconscious and in the hospitable. I am lucky my symptoms weren't worse, but I refused to get help and battled through several months of depression and confusion without any. This is not uncommon. No one should feel the need to "tough out" a brain injury on his or her own. I genuinely believe that we need to increase awareness, prevention, and treatment of brain injuries.
The Pikes Peak Challenge is a yearly event that helps raise money to support the Brain Injury Alliance of Colorado. Last Year, this event alone raised $275,000 to assist families that have been affected by brain injuries. The BIAC provides resources and education for healthcare providers to better screen for brain injuries and treat brain injuries. The BIAC helps to educate the public about preventing future head injuries while providing support for people that are living with the results of head injuries. I believe in this organization and its efforts. I feel that it's worth supporting. I'm asking for help supporting this cause and assistance can be provided in many ways. If you have the means then donations can be made directly to my page; all donations are tax deductible. Sharing information about the Brain Injury Alliance or my fundraising efforts is much appreciated. Cheering me on in my training and wishing my family, fellow climbers, and I luck and fair weather on September 8th, 2018 is more than enough. Thank you for sharing in the event with me.
Your support is much appreciated!
B-BOB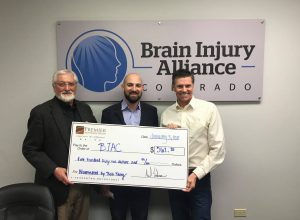 Amber Pope
$50.00

Noel Bennett
$25.00

Cher Iten
$35.00

Aimee Quaratino
$25.00

Terri Wolf
$141.16

Mark Weber
$30.00

8z Mortgage & Premier Mortgage Group
$141.16

Nick Peterson
$50.00

DAVID BLIESMER
$100.00

JAMES UNGER
$130.00

Jessica Coffey
$50.00

Stephen Berg
$25.00

bj murata
$25.00

Alfredo Esparza
$25.00

Jessica Chung
$33.00

Patrick Haddon
$25.00

Matt & Liz Williams
$25.00

Kylie M
$20.00

Lauren Nygren
$100.00

Mary Colwell
$33.00

Thomas Monette
$40.00

Portia Noel
$50.00

Zori Levine
$10.00

Andrea Taydus
$10.00

Helen Sanford
$25.00

Ally Williams
$50.00

Marcia Cotlar
$25.00

Lauren Gates
$100.00

Alex Gordy
$50.00

Jina Kim
$50.00

Bob Terry
$100.00