My name is Baylee Farris and this will be the 4th year doing the Pikes Peak Challenge. Jackson is my cousin and I am honored to do the climb for him. He is so strong and loved by all. I'm so proud of how far he's come!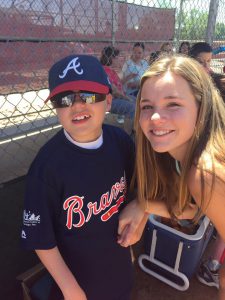 Love him 🙂
 
I am reaching out to my family and friends to share my exciting commitment to participate in the 2018 Pikes Peak Challenge. This fun-filled and exciting event raises awareness for the brain injury community, while at the same time empowers both supporters and survivors as we hike, walk or roll side-by-side.
Last year $275,000 was raised to support the Brain Injury Alliance of Colorado! This year we hope to surpass that number and raise $300,000. Can you help us reach our goal?
I'm excited to share my commitment to participate in the 2018 Pikes Peak Challenge Summit Hike. When I finish, I will have hiked 13 miles and 7,400 vertical feet to the 14,110 foot summit of Pikes Peak.
Even more impressive than this challenge, is the courage and strength it takes for a survivor to overcome day to day struggles that come with a life of living with an injury to the brain.
Please donate now and together we can make a huge impact for brain injury survivors like Jax and the entire brain injury community.
Lenny Hutson
$20.00

Connection e Mendoza
$50.00

Matthew Palmquist
$35.00

Stuart Harrell
$50.00

Bryan Rudick
$20.00

Jeff Long
$20.00

patricia thomas
$50.00

Vern and Linda Kaska
$50.00

Kally Hill
$25.00

Debra Holtz
$25.00

Miller Family
$25.00