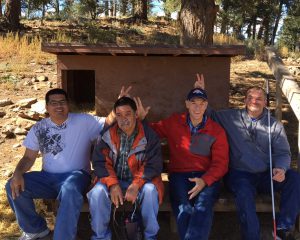 Did you know there are over 200,000 individuals living with the effects of brain injury in Colorado and about 5,000 new cases are reported every year?
The Brain Injury Alliance of Colorado is dedicated to serving individuals affected by all forms of injuries to the brain such as stroke, TBI, tumor, anoxia and infection. Their mission is to improve the quality of life for survivors by connecting them with resources to help navigate the path of rehabilitation. 
I am reaching out to my family and friends to share my exciting commitment to participate in the 2018 Pikes Peak Challenge Manitou Walk alongside our Learning Services residents and staff. When we finish, we will have walked 3 miles around the picturesque town of Manitou Springs.
 This fun-filled and exciting event raises awareness for the brain injury community, while at the same time empowers both supporters and survivors as we hike, walk or roll side-by-side. Last year $275,000 was raised to support the Brain Injury Alliance of Colorado! This year we hope to surpass that number and raise $300,000. Can you help us reach our goal?
Even more impressive than this challenge, is the courage and strength it takes for a survivor to overcome day to day struggles that come with a life of living with an injury to the brain. 
Please donate now and together we can make a huge impact for brain injury survivors and the entire brain injury community. Thank you so much for your support! Without you, BIAC cannot offer the much needed services to the brain injury community in Colorado.  
chris McMorrow
$50.00

Terri Dorman
$50.00

Ed Williams
$50.00

Tracey Jensen
$100.00