I am very passionate about nursing and taking care of the special population of brain injury survivors and their families. As my family and friends, you've probably heard me talk about the funny moments, the hard moments, and the miraculous moments I've gotten to experience and witness working with individuals of all ages and from all walks of life. It's also a privilege to play a part in their recovery from one of the most devastating things these patients and families could ever experience.  Attached is a video of one of my most memorable patients and families that have overcome many of the unique challenges presented with brain injury. They are a consistent reminder of why I do what I do (even when it's hard) and why brain injury advocacy is so important.
The Pikes Peak Challenge is to raise awareness for brain injury survivors and to raise critical funding for the Brain Injury Alliance of Colorado (BIAC). BIAC is dedicated to serving individuals affected by all forms of injuries to the brain and closely works with Craig Hospital to provide ongoing resources to patients and families affected by brain injury. Brain injuries are so prevalent and so devastating to not only the individual who had the injury, but also their families.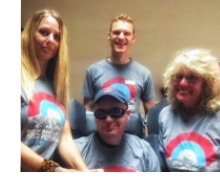 I am reaching out to my family and friends to share my exciting commitment to participate in the 2018 Pikes Peak Challenge. This fun-filled and exciting event raises awareness for the brain injury community, while at the same time empowers both supporters and survivors as we hike, walk or roll side-by-side.
Last year $275,000 was raised to support the Brain Injury Alliance of Colorado! This year we hope to surpass that number and raise $300,000. Can you help us reach our goal?
I'm excited to share my commitment to participate in the 2018 Pikes Peak Challenge Manitou Walk. When I finish, I will have walked 3 miles around the picturesque town of Manitou Springs.
Even more impressive than this challenge, is the courage and strength it takes for a survivor to overcome day to day struggles that come with a life of living with an injury to the brain.
Please donate now and together we can make a huge impact for brain injury survivors and the entire brain injury community.

$0.00


$0.00


$0.00


$0.00


$0.00


$0.00


$0.00


$0.00


$0.00


$0.00


$0.00


$0.00