This is Chad.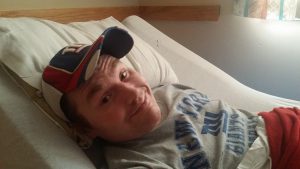 In 2010, Chad was involved in a terrible car accident. It was a typical day and Chad was leaving home for work, when a speeding driver recklessly struck his vehicle. Chad was airlifted from the scene and spent several months at Denver Health. The accident left him with a traumatic brain injury, and while his recovery was deemed close to a miracle, he still requires 24-hour care at his rehabilitation center, back home in New York.
I had the pleasure of meeting Chad, Tristen's older brother, during a visit back to New York in 2015. Here are some things I learned about Chad:
Chad is the ultimate sports fan. His favorite teams are the Giants and the Red Socks. He hates the Yankees. HATES.
Chad always was (and still is) quite the ladies' man. Forever a charmer 🙂
Chad passed on his love of video games to Tristen. He was the Best. Big Brother. Ever. when he used his savings to buy Tristen his first PS2 many, many years ago. (You should see Tristen's console collection now!)
Chad is super competitive and hates losing (especially to his little brother).
Did I mention that he hates the Yankees?
Chad has an amazing family support system. Especially his mom, Laraine, who drives an hour and a half, round-trip, on her daily trips to visit him; his sister, Jill, who is his close confidant and indulges his requests for some of his favorite foods (like McDonalds cheeseburgers); and of course, Tristen, who spends many tireless hours on the phone for care conferences with the rehab center and manages all aspects of Chad's care.
The last point is the one that stands out to me the most. As someone who has been blessed to have gotten to know and love Tristen and his family over the past 2 years, I'm struck by how much traumatic brain injuries, like Chad's, continue to affect not just the survivor, but their entire family. Their lives were forever changed the day Chad was injured.
The Brain Injury Alliance of Colorado is the go-to resource for survivors of an injury to the brain, their families, and providers. BIAC provides hope, support, and guidance in times when life can seem hard and insurmountable.
I'm excited to share my participation in the 2017 BIAC Pikes Peak Challenge Summit Hike. When I finish, I will have hiked 13 miles and 7,400 vertical feet to the 14,110 foot summit of Pikes Peak. This will be my 8th "14er" to date.
This is no easy feat (especially considering I climbed my first 14er just last year – photo above)! But, even more impressive than this challenge, is the courage and strength it takes for a survivor to overcome the day to day struggles that come with a life of living with an injury to the brain.
I hope you will spread the word, share the love, and make a donation to this very worthy cause. Together we can make a huge impact for brain injury survivors like Chad, for his family, and for and the entire brain injury community.

$0.00


$0.00


$0.00


$0.00


$0.00


$0.00


$0.00