Big Head Ted my life giver and SD At 47 I suffered a pulmonary embolism and went into cardiac arrest three times which caused an anoxic brain injury. Forty days in the hospital and on going rehabilitation to relearn how to walk, talk and laugh again. It's truly a beautiful journey I get to share with all those who love our family and who have become great cheerleaders! I am beyond grateful for Big Head Ted, my SD, my life giver. I may never be "normal" again but am learning how to love my "New Normal". It's truly a journey of love. 
Consider donating to The Brain Injury Alliace of Colorado. They are an inclusive nonprofit organization leading the way for healing and sharing opportunities for growth and overcoming obstacles no matter how small they appear they are simply huge for those with brain injuries. 
I am going to hike up to the Barr Trail. It will take me a long time to do this but I feel it is an obstacle I want to conquer for all those who have cared for and supported our family these past years. 
Love wins always 
MK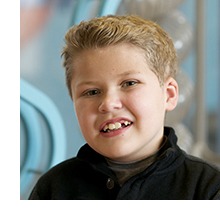 I want you to take one brief moment to meet Jackson. Ten years ago he fell from a 2nd story window and sustained a severe traumatic brain injury that changed his life and his family's life forever. Before the accident, Jackson was an active 2 year old little boy; running everywhere and doing everything. After the accident, it was uncertain if he would ever be able to eat, walk or talk again. He was given a 1% chance of survival. It has been a long and hard road for Jackson and his family. He is an amazing young boy who has overcome many hurdles with support from his family and friends and programs offered at The Brain Injury Alliance of Colorado. Despite having to relearn many skills, he has soared beyond everyone's expectations.
Jackson is just one of the over 500,000 Coloradans living with the effects of an injury to the brain. Life can seem hard and insurmountable without support and guidance. The Brain Injury Alliance of Colorado is the go-to resource for help and services for survivors of an injury to the brain, their families, and providers.
I'm excited to share my commitment to participate in the 2017 Pikes Peak Challenge Barr Camp Hike. When I finish, I will have hiked 13 miles and 10,200 vertical feet to beautiful Barr Camp and back down.
Even more impressive than this challenge, is the courage and strength it takes for a survivor to overcome day to day struggles that come with a life of living with an injury to the brain.
Please donate now and together we can make a huge impact for brain injury survivors like Jackson and the entire brain injury community.

$0.00


$0.00


$0.00


$0.00


$0.00


$0.00


$0.00


$0.00


$0.00