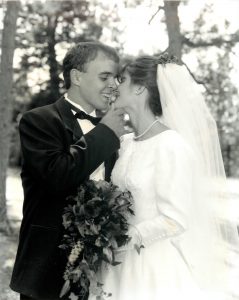 To celebrate our 20th Wedding Anniversary this Fall (September 16 officially), Brent and I are participating in the Pikes Peak Challenge Summit Hike to support the Brain Injury Alliance of Colorado (BIAC). When we finish, we will have hiked 13 miles and 7,400 vertical feet to the 14,110 foot summit of Pikes Peak to join other hikers and supporters in celebration of brain injury awareness.
Although this is quite an undertaking considering the altitude, possible weather conditions and other athletic requirements we might encounter, it pales in comparison to what survivors of a Brain Injury face every day. Did you know that there are over 200,000 individuals living with the effects of a brain injury in Colorado and that 5,000 new cases are reported every year?
BIAC  is dedicated to serving individuals affected by all forms of injuries to the brain such as stroke, TBI, tumor, anoxia and infection. Our mission is to improve the quality of life for survivors by connecting them with resources to help navigate the path of rehabilitation. The Brain Injury Alliance of Colorado has been a client of Brandeberry McKenna's for several years. it has been a joy to work with them to promote prevention and support policies in Colorado.
Please contribute whatever you can. $100, $50, $25 even $10 makes a difference. Thank you so much for your support! Without you, BIAC cannot offer the much needed services to the brain injury community in Colorado.

$0.00


$0.00


$0.00


$0.00


$0.00


$0.00


$0.00


$0.00


$0.00


$0.00