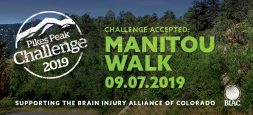 I'm participating in the Pikes Peak Challenge Manitou Walk in support of the Brain Injury Alliance of Colorado and to bring awareness to this "invisible" injury.
I am a survivor of a Tramatic Brain Injury caused by a car accident almost 6 years ago. This was a life changing event that has altered who I am and how I approach life.
Although I suffer almost daily with symptoms of my TBI, this year I feel like I have finally turned a corner thanks to the incredible support from my family and friends, the amazing healers and many medical professionals in this community.
This is my first year participating in the Pikes Peak Challenge. I will be doing the 2 mile walk in Manitou Springs with Team Positive, a group of TBI Survivors and their spouses, friends and family. BIAC is a lifeline for many TBI Survivors, so donate, $5 or $10, walk or just be inspired.
58% Funded
$145.00 Pledged
20 Days to Go